Chain Link Fence Carriage Bolt and Nut
Chain link fence carriage bolts are used to secure rail ends, tension bands and brace bands to terminal posts, corner posts and gate posts of chain link fencing. Bottom tension wire will be wrapped onto the bolt for security. The carriage bolts are hot-dip galvanized to resist rust and corrosion and will last for years. Hex nuts are included.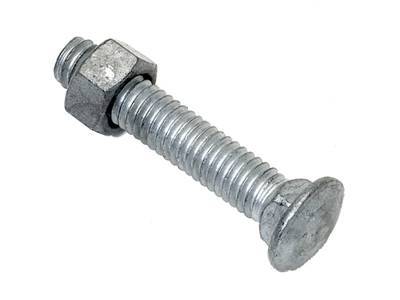 CB-01:
Galvanized carriage bolt and nut.
CB-02:
Carriage bolt and nut connect brace band.
Product description:
Item: carriage bolt.
Material: steel.
Diameter: 5/16 & 3/8 inch.
Length: 1-1/4, 1-1/2, 2, 2-1/4, 2-1/2, 3 & 3-1/2 inch.
Finish: hot-dip galvanization.
Nut: hex nut is included.