Chain Link Fence Top Rail - Zinc-coating & Vinyl-coating
Top rails are used to hold the chain link fence fabric up and extend the fence across the top from terminal post to terminal post. It comes with two end styles - swedged and unswedged. Swedged top rail will be fit inside the unswedged top rail to form a piece of continuous rail without other special element. However, for two pieces of unswedged top rail, rail sleeve will be used.
Top rails can be used in residential and heavy duty commercial or industrial applications. For residential uses, wall thickness of 15 to 17 gauge is strong enough. Available in zinc-coating or PVC-coating in the color matching with the fabric.
TR-01:
Galvanized top rail.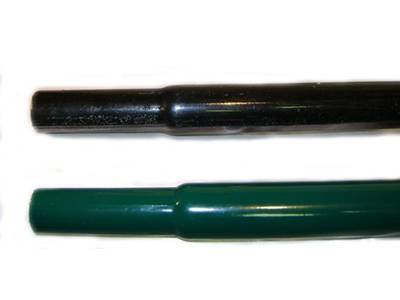 TR-02:
Black and green vinyl-coated top rails.
Product description:
Item: top rail.
Material: steel.
Out diameter: 1-3/8 & 1-5/8 in.
Wall thickness: 9 to 17 gauge.
Length: 21 and 24 ft.
Style: swedged or unswedged.
Finish: galvanized or PVC-coated (match with the fence fabric).