Commercial Chain Link Fence Frame Gives Diverse Grades
Commercial chain link fencing is an economical and effective method of securing property or other sensitive areas from theft, vandalism and other destructive activities. Compared with residential chain link fence, it has stronger fabric as well as frame including line posts and terminal posts - corner posts, end posts and gate posts. All the dimensions are in accordance with ASTM standards.
Commercial chain link fence has a very wide applications ranging from tennis and baseball field to factory, from government to prison, from industry to swimming pool. Their posts can be selected from the table below.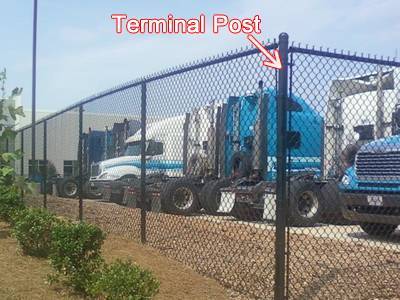 CLFP-01:
Terminal corner post.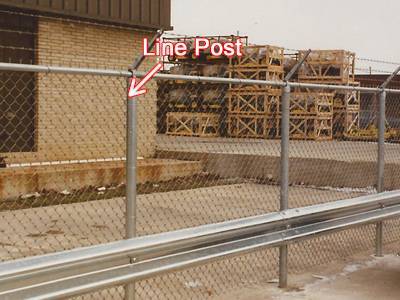 CLFP-02:
Line post.
Table - 1 Commercial Chain Link Fence Post Specification
Schedule 40 Commercial Chain Link Fence Posts
Item No.
Uses
Trade Size O.D. (in.)
Outside Diameter (in.)
Wall Thickness (in.)
Weight (lb/ft.)
CFP401
Line post
1 7/8
1.90
0.145
2.72
CFP402
Line post & terminal post
2 3/8
2.375
0.154
3.65
CFP403
Line post & terminal post
2 7/8
2.875
0.203
5.80
CFP404
Line post & terminal post
3 1/2
3.50
0.216
7.58
CFP405
Line post & terminal post
4 1/2
4.50
0.237
10.8
CFP406
Line post & terminal post
5 9/16
5.563
0.258
14.63
CFP407
Line post & terminal post
6 5/8
6.625
0.28
18.99
CFP408
Terminal post
8 5/8
8.625
0.322
28.58
Schedule 80 Commercial Chain Link Fence Posts
Item No.
Uses
Trade Size O.D. (in.)
Outside Diameter (in.)
Wall Thickness (in.)
Weight (lb/ft.)
CFP801
Line post
1 7/8
1.90
0.20
3.63
CFP802
Line post & terminal post
2 3/8
2.375
0.218
5.03
CFP803
Line post & terminal post
2 7/8
2.875
0.276
7.67
CFP804
Line post & terminal post
3 1/2
3.50
0.30
10.26
CFP805
Line post & terminal post
4
4.00
0.318
12.52
CFP806
Line post & terminal post
4 1/2
4.50
0.337
15.00
CFP807
Line post & terminal post
5 9/16
5.563
0.375
20.80
CFP808
Terminal post
6 5/8
6.625
0.432
28.60
CFP809
Terminal post
8 5/8
8.625
0.500
43.43