Barb Wire Arm for High Security Chain Link Fence
Barb wire arm, whether three-strand or six-strand, is the most popular fitting element used to attach a barbed wire on a chain link fence for high security. The arm will be capped onto the line posts and top rail slide through the arm's loop. The two extensively-used barbed wire arms - one is 45° slanted arm with three strands and the other is V-shaped arm with six strands. The Z-shaped cuts are designed to secure barbed wire. Barbed wire arms are often accompanied with chain link fence for high security.
Product description:
Item: barbed wire arm.
Material: pressed steel.
Size: 1-5/8" × 1-5/8", 2" × 1-5/8", 2-1/2" × 1-5/8".
Style: single slanted arm for three barbed wire strands; V-shaped arm for six barbed wire strands.
Finish: hot-dip galvanized.
BWM-01:
45 degree barb wire arm.
BWM-02:
Single barb arm with three-strand barb wire.
BWM-03:
V-shaped barb arm.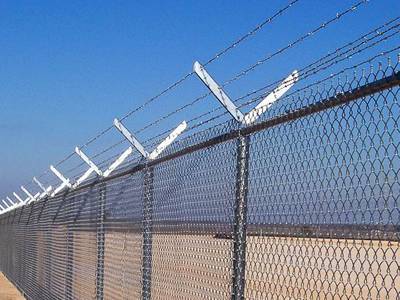 BWM-04:
Six-strand barb wire arm.