Fence Topper Caps Protect Players & Add Attractiveness
Safety top cap over chain link fence is designed to provides protection against injury by the exposed knuckles or twisted barbs on the top. Manufactured from UV stabilized HDPE (high density polyethylene), the fence top can standard with impact and severe weather conditions for many years. Yellow is the most frequently used in baseball fields, parks and recreational facilities. Yellow fence safety cap topper not only decorates the chain link fence system but also warned people away from the fence.
There are two types of fence top - D-shaped cap and corrugated tube cap. Find their details as below:
Type A: D-shaped Fence Cap.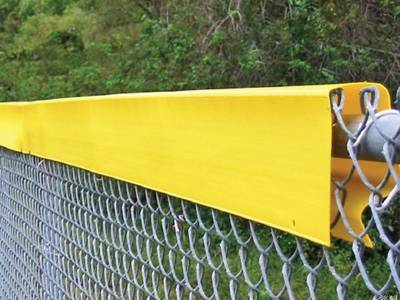 FT-01:
Yellow D-shaped Topper.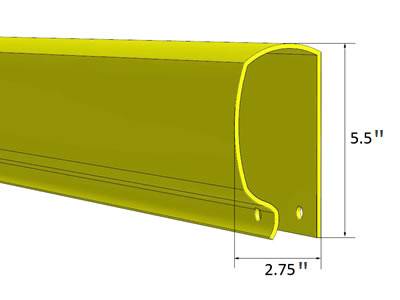 FT-02:
D-shaped fence cap drawing.
Product description:
Item: D-shaped fence cap.
Material: UV stabilized HDPE (high density polyethylene).
Thickness: 1/16".
Height: 5 1/2".
Width: 2 3/4".
Length: 8 ft.
Color: yellow, red, green, blue, black and orange or as ordered.
Package: 10 pcs/box.
Accessories: hog-rings or zip-ties.
Features & benefits:
Easy and fast to install over any chain link fencing.
UV stabilized HDPE for long life span.
A decorative & attractive element for chain link fencing.
Provides safety by covering sharp or ragged edge.
High visible fence toppers avoid corrosion from exposed chain link.
Available in yellow, orange, green, black & blue.
Type B: Corrugated polyethylene fence caps (poly-cap).
FT-03:
Corrugated tubing fence top.
Product description:
Item: corrugated poly-cap.
Material: HDPE.
Diameter: 4 1-2 inch.
Thickness: 1/16 inch.
Roll length: 100 ft & 250 ft.
Color: yellow & black.
Warranty: 3 years.
Accessories: cable ties.
Note: Poly-cap should be tied to the fence every 3 feet.
Features & benefits:
An inexpensive way to increase visibility and avoid injuries to ball fields.
Add aesthetic feeling to any galvanized or PVC-coated chain link fence system.
Most cost-effective and simple way to protect players from harm by sharp fence edge.
20% thicker than thinner wall caps in the market.
UV protected for more durability.
Available in yellow and color.