Lookout Chain Link Fence for Stair and Walk in the Sea, Scenic Point
Chain link fence is qualified for security fence at the edge of lookout, stone stair railing inside or outside lookout, lookout protection fence on the top of mountain, etc. Chain link fence can be built in different places for different purposes. When lookouts are seen at the seaside and scenic points, it mainly as viewing platforms for tourists, however, coast always with steep slop, rugged ground, chain link fence with the good features of light weight and easy installation, is excellent for overcoming harsh conditions that keep visitors safe when they go up to the top of lookout. In addition, when some lookouts were built for military mission, chain link fence is accept for attaching barbed wire on its top to prevent unauthorized people from accessing.
Specification
Material: carbon steel;
Surface treatment: hot-dip galvanized, galfan, PVC coating;
Color: silver, green.
Application
Lookout security fence on the coast rock;
Lookout inner stair fence;
Lookout protection fence on the top of mountain;
Edge protection railing of lookout.
Feature
Anti-corrosion;
Allow for sticking warning signs wood board;
Sturdy that not easy fall in strong windy day;
Easy for moving to the top of the mountain or cliff;
Low cost but high quality;
Fireproof.
LF-01:
Chain link fence around lookout on the top of the mountain.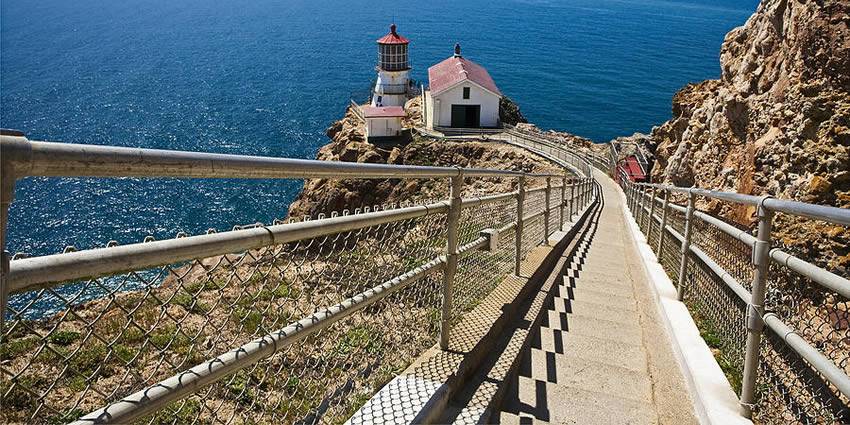 LF-02:
Rocky walkway with galvanized chain link fence for protecting people fall down to the sea.
LF-03:
Welded wire
and chain link lookout fence with
barbed wire
topping.
LF-04:
Stair inside the lookout with chain link fence.